Communications Ministry
Come visit us at the Ministry Faire, Saturday & Sunday, November 23 & 24.
Weekly Bulletin
The bulletin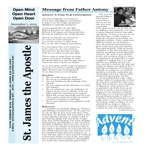 is composed each week with contributions by Father Antony, Majel Cantoria, and John DiPaola. We welcome news and articles from parishioners. The bulletin PDF file is sent to J.S. Paluch Co. each week to be published. Carolyn Fiori, editor.
Annual Yearbook
The 2013 St. James Yearbook is available in the parish office. Many parishioners contribute to the Yearbook each year: Jenna Dancel, Dennis Schmidt, Billy and Domer Panganiban, Liz Flores, Elmie Shahab, Van Cabrieto, Shirley Aldana, Janet and John DiPaola, Johnson Paulraj, Sheila and Ericson Reduta, and many more. Pick up your copy and check out all the parish activities beginning with Festival 2012 through Confirmation 2013. $5 cost covers printing and proceeds go to the Mother Theresa Center. Editor: Carolyn Fiori
2014 Yearbook
Now accepting articles, photos and advertisement for the 2014 yearbook. Deadline for submissions: May 15 2014.
2014 Calendar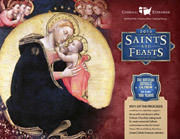 Parish calendars will be available on the weekend of December 15. Pick up your box of donation envelopes and your 2014 calendar.Pick up one for your family!